Friday, July 10, 2009
Social Club Jams Contest
Posted by
adamcs
at
21:28
. Category:
General
A new music video contest sponsored by Logitech is now open to Grand Theft Auto IV PC users at Rockstar Social Club.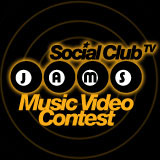 The contest asks you "to use any of the 98 songs available via the GTA IV PC Video Editor to craft your own original music video shot on location in Liberty City." Videos will be judged based on the following criteria: Creativity/Originality 25%; Editing Skill 25%, Theme Interpretation: 25% and User Rating 25%. Best Director wins a one-of-a-kind custom Rockstar branded set of Logitech PC peripherals including high end computer speakers, keyboard & much more.
To enter, you'll need to upload your video anytime between July 10, 2009 (today) and July 31, 2009 inclusive - and make sure to use the tag "music-video-contest". Go to the Social Club Jams Contest channel page at Social Club TV to watch video entries as they start flowing in, and visit this page to see the official rules and full list of prizes.