Wednesday, September 16, 2009
The Ballad of Gay Tony Online Previews
Posted by
adamcs
at
16:18
. Category:
Ballad of Gay Tony
Recently, Rockstar gave the online gaming press their first hands-on time with The Ballad of Gay Tony. Check out what they had to say: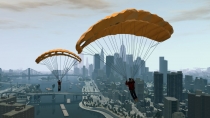 12 new screenshots are available.
Nineteen new screenshots in total are contained in the previews. See all of them in our gallery.
UPDATE: Some websites also received exclusive shots: IGN 1, IGN 2, GameSpot, 1UP, Team Xbox.