Friday, November 13, 2009
Play The Ballad of Gay Tony with Rockstar
Posted by
adamcs
at
23:00
. Category:
Ballad of Gay Tony
Join Rockstar for a bit of Saturday afternoon mayhem on Xbox LIVE tomorrow for an official The Ballad of Gay Tony multiplayer session. The session will run from 2 to 5 PM Eastern / 7 to 10 PM in the UK.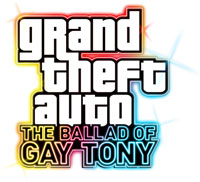 Rockstar will be using the following gamertags, so be sure to add them and keep a look out for them:
GwRockstar1
GwRockstar2
GwRockstar3
GwRockstar4
GwRockstar5
GwRockstar6
GwRockstar7
GwRockstar8
Related Link: Rockstar News Wire - Official The Ballad of Gay Tony Multiplayer Session.