News for October, 2008
Friday, October 31, 2008
Posted by
adamcs
at
20:09
. Category:
General
Grand Theft Auto IV has received two awards at this year's 2008 Golden Joystiq awards. The game was voted BBC 1Xtra Soundtrack of the Year and Arvato Digital Services Xbox Game of the Year. These awards mean that the GTA series has now scooped a Golden Joystick Award for seven years running. In addition, Rockstar North - the people behind the series - were recognised as CVG.co.uk UK Developer of the Year.
Source & Full List of Winners: BBC News
Thursday, October 30, 2008
It would seem IGN is on a roll today. Hot on the heels of its PC preview they have now released the official recommended PC specs for GTA 4 :-
Minimum System Requirements
OS: Windows Vista - Service Pack 1 / XP - Service Pack 3
Processor: Intel Core 2 Duo 1.8Ghz, AMD Athlon X2 64 2.4Ghz
Memory: 1.5GB, 16GB Free Hard Drive Space
Video Card: 256MB NVIDIA 7900 / 256MB ATI X1900
Recommended System Requirements
OS: Windows Vista - Service Pack 1 / XP - Service Pack 3
Processor: Intel Core 2 Quad 2.4Ghz, AMD Phenom X3 2.1Ghz
Memory: 2 GB (Windows XP) 2.5 GB (Windows Vista)
18 GB Free Hard Drive Space
Video Card: 512MB NVIDIA 8600 / 512MB ATI 3870
Posted by
Mark
at
17:34
. Category:
General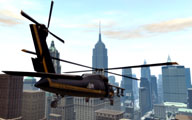 As the PC release date of GTA:IV grows ever closer and as promised by Kikizo, IGN have been exposed to a recent demo of the game down in San Francisco. Here's a little bit of what they discovered:
Even with all the graphics options cranked and the resolution set at a ridiculous 2560 x 1600 the game still ran well as we sped through the city and blew up as many things as possible. We checked out the specs on the rig and it turns out there was some pretty powerful hardware in there: a Core 2 Extreme X9650 CPU, GeForce GTX 280 graphics card, and 3 GB of RAM. At this setting, the game definitely looked better than the console versions, particularly with regards to the extended draw distance and less pop-up, though that shouldn't be all that surprising.
More info on the demo can be found here: Link
Friday, October 24, 2008
Posted by
adamcs
at
05:47
. Category:
General

After first being announced in July, Social Club's "Viral Infection" zombie feature is now finally available at Rockstar Social Club. Here is the description from Rockstar:
There is a virus sweeping through Grand Theft Auto IV turning many unsuspecting players into Zombies. If you've seen the special Zombie-with-yellow-briefs player skin running around during Grand Theft Auto IV multiplayer, then you may already know that the virus can be contracted in any and all multiplayer modes and is spread when an unsuspecting player kills someone who has the infection (note that the infected don't necessarily have to be wearing the Zombie skin, some show no symptoms!). The signs of infection are: access to the zombie skin and having the Achievement "Let Sleeping Rockstars Lie". With the all-new Viral Infection feature at the Rockstar Social Club, members can now see whether they are currently infected, the number of total global infections and the number of infections in the last 24 hours. Digging deeper, Social Club members can also browse a color-coded world map tracking the spread of the infection worldwide, including breakdown for all 50 US States. Click here for the Viral Infection feature.
This will bring a smile to GTA 4 PS3 fans Rockstar are bringing Trophies to your system this coming Monday. The Trophies will not be retroactive and cannot be unlocked with a save game. So you have an excuse to play GTA 4 alllll over again (not that one is needed)
All kudos must go to a GTAforum member, flaco_tanner for finding this information. You can discuss the impending arrival of the trophies here :-
Wednesday, October 22, 2008
Posted by
adamcs
at
11:54
. Category:
General
We have just received a heads-up from the editor at Kikizo.com that online GTA4 PC previews are due to arrive soon. Editors from a whole bunch of different sites were yesterday given the opportunity to play the game at Rockstar's UK headquarters, which means we can probably expect the previews to go live in about two or three weeks time. We'll let you know as soon as we have any more details. Meanwhile, be sure to check out Kikizo's MCLA Review, which draws a lot of interesting comparisons to GTA IV.
Tuesday, October 07, 2008
Posted by
adamcs
at
18:38
. Category:
General
The first official GTA IV PC trailer has just gone live over at Gametrailers.com. Check it out!
The PC version is due to be released on November 18th and 21st in North America and Europe, respectively. Be sure to visit our GTA IV PC forum and register if you haven't already.
Thursday, October 02, 2008
Posted by
steve-m
at
12:44
. Category:
General

After 5 months of back and forth between GTA publisher Take-Two and EA, as well as various other (undisclosed) interested parties, Take-Two today announced they completed their "review of strategic alternatives" and will stay independent. GTA fans need not fear any drastic changes in the near future. Says CEO Ben Feder:
"Take-Two's recent performance demonstrates our potential to create value for the long term. We have delivered solid financial results and expanded our portfolio of leading titles, which includes the powerful Grand Theft Auto franchise, as well as 15 other wholly owned brands with sales of more than one million units each. Our strong cash position – with no debt and an undrawn $140 million credit facility – gives us the financial flexibility to continue to do what we do best: innovate and create the great games that our customers have come to expect."
Link: Press Release
Wednesday, October 01, 2008
Well PS3 owners have been demanding them and it looks like Rockstar heard your demands. I am of course talking about the PS3 trophies, it does look like the PS3 version of GTA 4 will be getting trophies. There are of course far too many trophies to list here but if you click
HERE
you can read all about them. There is no information on when these will be available though.
Return to Archive.