News for May, 2007
Tuesday, May 29, 2007
Posted by
adamcs
at
22:58
. Category:
General
Last week, Adriaan briefly mentioned that we added a new GTA IV screenshot gallery, with all the latest high-quality screens. Along with this, we have setup an artwork gallery containing all of the GTA 4 artwork and logos, and also a characters page, detailing the characters we know about so far.
These pages will be constantly updated as soon as new information arrives, so be sure to keep an eye on them and feel free to leave feedback or suggestions at our forums.
Posted by
Adriaan
at
10:51
. Category:
General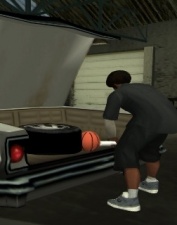 Opening car trunks was an anticipated feature in
GTA: San Andreas
, but turned out to just occur during a cut scene.
Another preview to have offered gamers a good introduction into GTA IV was the Official Xbox Magazine in the United States. As you'd expect, no new information, except for one thing that accidentally slipped through to the magazine while getting a demo of the game.
When they approached the parked car in Broker from behind, the Admiral that so many publications got to see getting broken into, an information prompt came up on the top left side of the screen, indicating to press the left bumper or "LB" button of the Xbox 360 controller in order to open the trunk. This button is the equivalent of the PlayStation controller's "L1" button.
How far this will stretch into game play can only be speculated, but it can and probably will open new opportunities when playing GTA IV, both during missions and non-missions. Perhaps even throw dead (or not so dead) bodies in? Rockstar Games didn't want to discuss anything about this feature.
The last of the first round of magazine previews are coming to an end, and the next issues to come out next month will probably provide new information on the game.... we hope.
Thanks, DC88 and Asif!
Saturday, May 26, 2007
Posted by
Adriaan
at
10:18
. Category:
General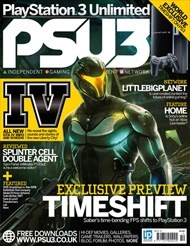 Following the recent release of new screenshots and online previews, two new magazine previews for GTA IV made its way to UK readers. First is a magazine called PlayStation 3 Unlimited, still with the same introductory preview, and the Official PlayStation 2 Magazine, who seems like they're just writing a lot of speculative information.
Firstly, PSU3 says that there are four different camera angles to choose from when inside a vehicle, and that one of them allows you to get an almost first-person perspective, looking across the car bonnet (Something which can be often seen in racing games).
OPM 2 on the other hand provided a lot of information that doesn't look like they're all straight from Rockstar. For instance, they said that crossing the entire map will take you around an hour. This contradicts the information we received prior about Liberty City being smaller than San Andreas, so we're not going to take this seriously, and besides, it just sounds impossible. In real life, driving from Manhattan to JFK Airport takes about 40 minutes.
We also received the unwatermarked versions of the recently released screenshots in their original quality yesterday from Rockstar Games, be sure to check them out in our updated screenshots gallery.
Related: Forum Topic
Special thanks to Matty for sending over scans of these issues!
Thursday, May 24, 2007
Posted by
adamcs
at
17:04
. Category:
General
Games Radar, IGN, and GameSpot have all posted new previews of Grand Theft Auto IV, based on the existing demo. Included are 4 never-before-seen screenshots, plus all of the screenshots from the print magazine previews published earlier this month. Check it out: Games Radar, IGN, GameSpot.
Official artwork:
Expect more online previews to appear over the coming weeks. Discuss this news at our forums.
Monday, May 21, 2007
Posted by
adamcs
at
20:55
. Category:
General
Rockstar Games have announced that GTA IV will be available as a special edition on October 16 in North America and October 19 in Europe, the same day as the regular edition.
The special edition will be presented in a customised Grand Theft Auto metal safety deposit box, which will contain:
Grand Theft Auto IV (the game itself) with special packaging.
The Grand Theft Auto IV Art Book, featuring never-before-seen production artwork from GTA4.
Selected soundtrack CD from Grand Theft Auto IV, featuring new material from top artists, only available on this release.
An exclusive Rockstar keychain for the safety deposit box keys.
A limited edition Rockstar duffel bag.
The special edition is available for pre-orders today and will retail for $89.99 in North America.
Link: Press Release - R* announces Grand Theft Auto IV Special Edition
Tuesday, May 15, 2007
Posted by
Adriaan
at
22:05
. Category:
General
The German edition of GamePro recently provided a full preview on GTA IV to readers in that country, but as you'd expect most of the information is already known to us. It did, however, provide a small amount of information, listed below:
There will be several different animation sets for breaking into a car, so far we know one of them includes Niko breaking the glass of the window with his elbow, then starting the car using the injection cables. We know there probably isn't a lot of different other ways Niko can do this, but we suspect it will involve dynamic animations, and for instance Niko sometimes becoming suspicious in the middle of hotwiring a car, looking around to see if anyone suspects what he's doing, then continuing. Rockstar previously said they want the animations to look less "canned", so this would fit well with that goal.
According to the article, Rockstar are using less non-realistic elements than previous GTA games, such as arrows and markers assisting and indicating things to the player. We already know the in-game mobile phone will play a big part in replacing some of these things, so perhaps we might see other helpful gadgets such a GPS system, though that is just speculation.
One of the ideas going into development is to give every street in the game a name, which could be displayed on-screen when you enter it by foot or car. This feature is yet to be decided on, along with the previously revealed information piece about Rockstar still deciding whether the entire city will be accessible from the start, or if different areas will be inaccessible by way of cordoning off bridges and such.

EDIT: After we received a full translation of this issue, we learned that every street in the game will in fact have a name assigned to it, and will be shown on your HUD when entering it. This will play a big part during missions, as for instance you might get told to go to a specific address. R* is still deciding whether or not they'll use colored markers to point addresses and such out to the player.
When R*'s Dan Houser was asked about the differences between the Xbox 360 and PS3 versions, he replied saying that it is their goal to have none, and that there are no platform preferences, both are difficult to develop on. For now, we take this as to have nothing to do with the extra downloadable content.
Speaking of which, he further says that they're not sure what exactly will be offered through additional content downloads. He says that maybe some things will be free, and others offered at a price.
"By all means we'll only do things [through downloads] that really serve the game. Simply pulling 5 dollars out of someone's pocket - that's too cheesy for me."
-Dan Houser, Vice President of Rockstar Games
Thanks to GTAReactor for help on translating the information.
Related: GTAForums
Monday, May 14, 2007
Posted by
Adriaan
at
23:19
. Category:
General
Apart from the five official screenshots released by Rockstar Games, and those captured from the first official trailer, so far we've only come to see screenshots printed in magazine publications, which of course were graciously ported over to the web by way of a revolutionary digital invention, the almighty scanner.
In order for us not to breach the copyright law, in which we no doubt would've gotten cease and desist letters if we had done so, we did not publish scans/screenshots from these publications.
Today, however, we can put up a new screenshot. An article on the New York Times website, and probably published in print, in which the writer consulted Rockstar Games for comment, a digital screenshot, albeit small in size, showed up. No doubt is this from Rockstar Games themselves, and so we've decided to publish for all of those to enjoy.
Well, here's the screenshot, showing a train on the elevated tracks passing over Broker. Click on the image below to see it in its full-size.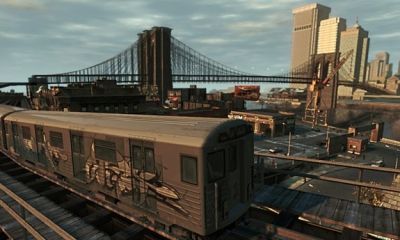 Related: An article about some dude being happy that Staten Island is excluded from GTA IV
Friday, May 11, 2007
Posted by
Adriaan
at
10:14
. Category:
General
Yes, the
calm before the storm
is certainly over and it looks like we're right in the middle of a real Nor'easter. The Australian edition of the Official PlayStation Magazine went out to subscribers recently, and as such offered them an exclusive preview on GTA IV. As we've said before, not many revelations will break through for a while, but a small amount of information did come through that weren't known to us before.
During the demo, when Niko passed an ATM machine a message appeared on the screen indicating a button to press in order to access his funds. Nothing more official is discussed about this, though it would appear that you'll likely be able to deposit and withdraw money from the various ATM machines across the game.
As part of GTA IV's new physics, you'll be able to hear/feel the bass of vehicles passing by with their radio turned on.
Rockstar says that the usual GTA driving controls have been tremendously tweaked and enhanced.
When selecting a contact on your mobile phone, a list of several commands are made available to the player, such as "meet me here" etc.
Playing the single player game through co-operative mode is not possible, however there will be a co-op mode in addition to all the other unknown multiplayer modes.
According to Dan Houser, VP of Creative for Rockstar Games, they haven't yet figured out if GTA IV is going to spark off another set of GTA games connected to it, and they're currently just focusing on this single game. He does say he "would have a certain confidence" setting GTA outside the United States, such as England in the future.
When asked about a San Andreas Stories for the PSP, he replies saying that they don't have any plans for that at the moment, suggesting that they likely haven't started at all on another GTA PSP title.
Credit goes to
Wehmer
this time for providing us with the info. You can discuss this news
over here
.
Thursday, May 10, 2007
Posted by
adamcs
at
17:35
. Category:
General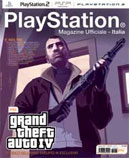 The latest issue of the Italian OPM contains an 8-page Grand Theft Auto IV preview with some new artwork and a few tidbits of info.
During the demo, Niko was seen approaching a bus stop. When he reached it, an icon appeared on-screen that enabled him to control the bus schedule. Is it possible to use the bus service similar to how you can with trains?
When Niko pulls out a weapon, the camera positions itself above his shoulder, and a view-finder appears at the centre of the screen. It's possible to lock a target and move laterally to avoid incoming shots.
Stealing a car can no longer be done simply by opening the door and driving off. Now it involves Niko approaching the car sneakily, breaking the glass with his elbow, using the injection cables to start the car, and only then can he use it.
Niko can freely climb wherever possible (telephone poles, fire escapes etc.)
Philip Glass, the author of the Grand Theft Auto 4 trailer music, will be involved in the production of GTA IV's soundtrack.
The graphical improvements are clearly evident when walking over a grating on the sidewalk. You can see what is underneath it, and the light trickles realistically around the iron bars.
Thanks to GTA-Series.com for the news and article translation. Digg this!
Related Link: GTAForums Topic
Wednesday, May 09, 2007
Posted by
Adriaan
at
22:16
. Category:
General
Another magazine preview of GTA IV showed up today, this time it's the latest issue of the Official Xbox Magazine in the UK. The demo given to them was the same introductory preview given to previous magazines, containing an interview with Dan Houser, Vice President of Creative for Rockstar Games.

Below is a summary of new information from the article. We suggest reading the information from OPM and Game Informer first if you haven't done so yet.
According to the magazine, GTA IV is currently 66% complete.
When Niko pulls out a pistol, a crosshair with a simple black cross within a circle shows up on the screen. This could be an indication of manual aiming being available in the game.
Rockstar's humorous take on the number 69 makes an appearance yet again in GTA IV, the editors of the magazine saw a sign for a "69th Street Diner". Another building called "Twitchins", the GTA version of Brooklyn's Domino's Sugar Factory, is in the game.
Niko will be able to climb and descend exterior fire escapes and some meetings will take place high in the office buildings of skyscrapers. It's said that from on top of them you'll be able to throw people off.
Hand to hand combat is also being reworked on for GTA IV, and will feel "much more natural" than before.
One of the radio stations includes an "Eastern European-sounding" dancing station.
Players will be able to change their camera views whilst in a car according to their needs. This however is said to still being experimented on, and that Rockstar want to give better control and "immediacy" to players.
For confirmation, boats will be making a return and the handling is "really nice".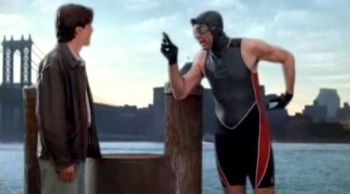 Above: Kramer, about to take a dip in the East River. Niko will likely be able to do the same.
When selecting your mobile phone, a zoomed-in version of the mobile screen pops up in the bottom right-hand corner of the screen, where you can use its address book to pitch for "jobs" with gang contacts among other things.
One of the things that makes it easier for Rockstar setting GTA in a fictional New York is that they sometimes get a call from the developers at Rockstar North in Scotland, wanting to know more about a specific building or traffic flow in a certain area, for instance, and using their in-house researchers in NYC they can easily assist the guys back at R* North.
Dan Houser is quoted saying that the Liberty City in GTA IV is bigger than any single city they've done before, giving a more clear indication of the physical size of the game. He continues saying that the "detail" of the game is the big thing.
He also confirms Central Park to be in the game, though it's fictional name is still unknown to us.
Dan says that they're "certainly evolving the way the radio works". He says the same for police behaviour and their reaction to crimes. Nothing further is said about this...
"Fun ridiculous" weapons is said to be in the game, because R* is not going too "naturalistic".
Special thanks to Loose Head! Discuss this at our forum.
Monday, May 07, 2007
Posted by
Adriaan
at
22:00
. Category:
General
As planned out by Rockstar Games' marketing team, lately we've been left in a state of boredom in the GTA world, at least pertaining to official news. Some sort of relief lies at the end of the road though, PSM3 and Play in the UK, as well as the Australian edition of OPM is said to offer GTA IV previews in their upcoming issues, all of them to go on sale this month.
We're not expecting any considerable revelations to surface from these issues, but they'll likely provide us with one or two new tidbits; or perhaps a broader aspect of already known information. The July issue of PSM in the United States on the other hand is said to offer brand new details, as stated in their June issue, and other sources. This issue will be available to subscribers as early as the first week of June, if things go ahead as usual.
Now, while we can only drool on already released information, there is however a place to keep yourself busy with GTA IV discussions, our GTA IV forum. Below are a select few topics that we found interesting...
Well, that's just some of it. Stay tuned for the information to be released from the upcoming magazine articles.
Tuesday, May 01, 2007
Posted by
Adriaan
at
23:29
. Category:
General
The May issue of PSM3 in the United Kingdom goes on sale in a few days on May 10, although some subscribers are starting to receive their issues. While details of the issue is yet to show up on our forums, one or two high profile UK gaming websites claim to have received their issue and posted information from it.
By the looks of it, the guys at PSM received the same introductory preview that both Game Informer and OPM received, so we're not expecting any major information for a while coming from a magazine.
There is however information on the technical difficulties that Rockstar is facing surrounding the core version of the Xbox 360. This cheaper SKU comes without a hard drive, as opposed to the premium version who has one with 20gb capacity. Those of you who own the latter will know that it only offers 13gb of storing capacity, because 2gb is reserved for the Xbox 360 backwards-compatibility software, and an additional 4gb for game title caching.
Now, we've learned recently that there will be no loading times as we move in and out of interiors, as well as moving between islands, so naturally Rockstar can make good use of this 4gb of capacity dedicated to caching in order to pre-load this content at the start of the game, right?
Not exactly. Even though a small amount of Xbox owners don't own a hard drive for their console, R* is trying to accommodate these consumers to play the game without the need of a hard drive, and according to PSM they're having a hard time doing this. There also seems to be a restraint concerning the DVD player of the Xbox 360 console.
Interestingly this information is revealed in a PlayStation magazine. Once we receive more valuable information from this issue we'll update you accordingly.
Return to Archive.