News for June, 2008
Monday, June 23, 2008
Posted by
adamcs
at
16:39
. Category:
General
Rockstar Games has released patches today for both the Xbox 360 and PlayStation 3 versions of GTA IV, which address a number of multiplayer connectivity issues including freezes during certain modes, continuation when players leave matches, and bugs within races and race lobbies.
Here is the full list of issues which have been addressed:
Fixed an issue where players were unable to enter or exit vehicles in GTA Race.
Fixed an issue where scripted vehicles were causing games to unexpectedly crash.
Improved reliability and frequency of PS3™ online leaderboard updates.
Fixed a rare hang some players encountered when moving from a Race or GTA Race lobby into gameplay.
Fixed a hang that would occur when players were switching teams during the countdown in the lobby.
Fixed an issue where players were able to get ridiculously high scores from Cops 'n Crooks matches.
Changed GTA Race and Race so that the last player remaining always receives a reward of $250.
Fixed an issue where spectating players would prevent the game from finishing.
Fixed an issue where players were unable to spectate in Round 2 of Cops 'n Crooks games.
Changed countdown timer in lobby so that it no longer resets when new players join a game.
Changed the kick option so that kicked players are no longer brought back to single player.
Saturday, June 07, 2008
Posted by
adamcs
at
23:31
. Category:
General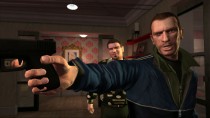 Our GTA IV walkthrough has been updated to include the final sections of the game. The guide contains details and screenshots of every mission encountered in the main storyline of Grand Theft Auto IV. Check it out:
Posted by
adamcs
at
22:44
. Category:
General
Games Radar have recreated the famous intro scene from "The Naked Gun" using GTA IV. Check it out!
And here is the original Naked Gun intro for those that haven't seen it:
Friday, June 06, 2008
Posted by
adamcs
at
00:31
. Category:
General
The first instalment of Xbox 360's exclusive episodic content has been delayed from August 2008 to some time after November, according to a Take 2 press release.
"Fiscal 2008 guidance reflects the release of the first installment of episodic content for Grand Theft Auto IV for Xbox 360 in the first quarter of fiscal 2009 instead of the fourth quarter of fiscal 2008 in order to provide a better balance in Take-Two's release schedule."
Not much has been said about the content since the original announcement was made last year, but the episodes (of which there are several) are believed to include things like new weapons, new races and new multiplayer game modes. More info will hopefully be revealed soon.
Link: Take 2 Press Release
Related Link: GTAForums Topic
Return to Archive.