News for June, 2009
Friday, June 19, 2009
Posted by
adamcs
at
09:24
. Category:
General
Rockstar Games has released a maintenance update for the PC version of Grand Theft Auto IV. As the title suggests, it's not a full-blown patch like the previous updates, but it should provide a reasonable performance boost for most players.
The game will prompt you to install the update the next time you log on to Games for Windows LIVE. You can also install it manually by downloading it directly from Rockstar's website. The update includes all the fixes from the previous patches, so if (for any reason) you have to re-install the game, you don't need to install the previous updates.
How effective has this update been for you? Does the game run a lot better, a little bit better, or has there been no significant change? Discuss now at the GTA Forums.
Posted by
adamcs
at
07:42
. Category:
General
ATI and NVIDIA released new drivers this week, providing a range of bug fixes and performance enhancements. Catalyst 9.6 was released by ATI on Monday, while NVIDIA released its 186.18 driver this morning. Grand Theft Auto IV PC users are encouraged to upgrade.
Remember to uninstall any previous drivers before installing these new ones.
Links:
Sunday, June 14, 2009
Posted by
adamcs
at
16:02
. Category:
General
Check out this video I made a few months ago on the PC version of GTA IV, using a combination of a modded handling file and dualCore's simple native trainer: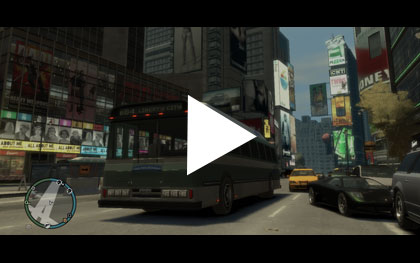 Posted by
adamcs
at
15:29
. Category:
General
A user called Mattigus on the Halflife2.net forums created this unique Jack Thompson PS2 casemod:
"As you can probably see, I took Jack's book and turned it into a PlayStation 2. While it's still a little rough around the edges, it still works. Unfortunately, the cover doesn't close by its own weight, hence the cell phone sitting on Jack's face on the fourth picture.

"I'm almost positive somebody else has thought of this, but I figured that some people here would be interested in it. And yes, the first game I played on this thing was GTA3."
Saturday, June 06, 2009
Posted by
Tsuroki
at
20:48
. Category:
General
We're proud to (finally) reveal the new GTA4.NET landing page!
Prior to this update, all visitors would be automatically redirected to the news page when going to http://www.gta4.net directly. Although this has worked for over a year, we were definitely in need of an update.
One of the new items on the landing page is the Community section. You'll notice that we're now on Facebook as well as Twitter. Although there has been a GTAForums group on Facebook for some time, this is the first time we've had any sort of "official" presence outside of our own network.
In addition to the new landing page, we've also implemented another change to the GTA4.NET family of sites: Both the main site and the The Lost and Damned subsite have been tweaked to use a max-width design. (We'll be doing the same to the Ballad of Gay Tony subsite as well.) Although this may not seem like much, this is the first time in GTANet history that we've chosen to restrict the size of the site to a set maximum width.
We've been working on these changes for a while. Hopefully everyone likes them as much as we do!
Friday, June 05, 2009
Posted by
adamcs
at
16:47
. Category:
General
Throughout May, members on our forum took part in a screenshot competition hosted by Dutchy3010. The competition involved submitting screenshots which had to relate to a certain theme (decided by the host) and then the winner was determined by whoever had the most points at the end of each round. There were four rounds in total, and the winning screenshots are as follows:
In the end, it was a landslide victory for thales100, who picked up 210 points in total, while CharmingCharlie took second spot with 123, and Gangxxter came in third with 86. You can view all the screenshot entries here.
Related Link: Grand Theft Auto IV Photo Contest at GTAForums.
Read More
Posted by
Tsuroki
at
02:25
. Category:
General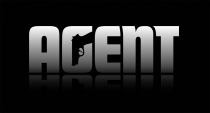 Sony announces Agent, the first installment in a new franchise being developed by Rockstar North exclusively for the PlayStation 3. (PS3 owners: this is your cue to start celebrating.)
Back in July of 2007, Rockstar Games promised to deliver a Sony-exclusive series to the PlayStation 3. The nameless project was heralded by Sony as the "next great franchise" from the team at Rockstar North. It would "set the bar for the rest of the industry", no doubt aiming to match the overwhelming success of the Grand Theft Auto series. Things went quiet regarding the new franchise after that, though.
At this year's E3 press conference, Sony finally broke the silence by adding Agent - the aforementioned mystery title from Rockstar North - to its long list of upcoming goodies for the PlayStation 3.
From the Rockstar Games press release:
New York, NY – June 2, 2009 - Rockstar Games, a publishing label of Take-Two Interactive Software, Inc. (NASDAQ: TTWO), is proud to announce Agent. Developed by the people behind Grand Theft Auto, Rockstar North, Agent will be available exclusively for the PLAYSTATION®3 computer entertainment system.

"We have always enjoyed making action games, and with Agent we are making what we believe will be the ultimate action game," said Sam Houser, Founder of Rockstar Games. "Agent is a game we have wanted to make for a long time. The team in Edinburgh is doing an amazing job combining intense action, atmosphere and story in a great period setting to create something that feels quite unique. We cannot wait for people to experience this game."

Agent takes players on a paranoid journey into the world of counter-intelligence, espionage and political assassinations during the height of the Cold War at the end of the 1970s.
(Source: Destructoid)
Further details are still murky. We do know, however, that the new series is being supervised by Rockstar North founders Dan and Sam Houser (two of the most prominent names tied to the success of the GTA series).
PlayStation gamers will no doubt be thrilled at this news. The 360-exclusive downloadable content for Grand Theft Auto IV has been a point of tension between the two camps ever since it was first announced, and the PS3's lackluster sales haven't done much to help.
While Agent isn't directly tied to Grand Theft Auto, this news does make us wonder what's in store for our beloved GTA. Will Grand Theft Auto be put on the backburner as Agent becomes the focal point for Rockstar North? Head on over to the forums and share your thoughts about R* North's newest project.
Related Links:
"Take Two grooming Agent to be the next GTA" - GameSpot E3 2009 Coverage
"Sony announces new Rockstar exclusive" - Destructoid
"Agent" - GTAForums Thread
Wednesday, June 03, 2009
Posted by
uNi
at
15:03
. Category:
General
Psy from GTA4.tv has received an excellent render made by Cristian Necula.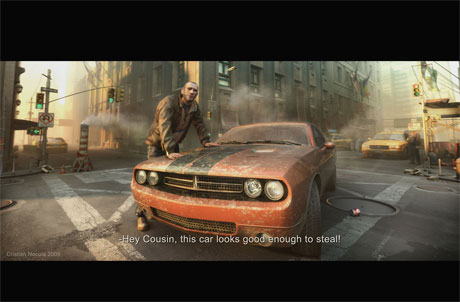 Cristian was able to create a very realistic scene using 3dmax and ZBrush (for Niko), Particle Illusion and Photoshop.
Monday, June 01, 2009
Posted by
adamcs
at
23:56
. Category:
General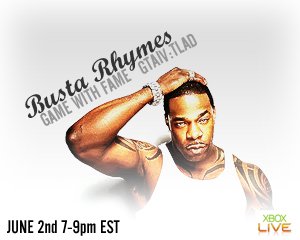 As part of their GTA IV: The Lost and Damned Weekend (running this weekend, June 5th - June 7th) Rockstar are offering fans the opportunity to play online with Busta Rhymes. Log on to Xbox LIVE tomorrow (Tuesday, June 2nd) between 7:00 and 9:00 PM EST, and look for the gamertag BustaRhymes GWF (note the space between BustaRhymes and GWF).
You can hear some of Busta's tracks on the in-game radio station, The Beat 102.7. You can also hear him phone in as a special guest caller on Funkmaster Flex's in-game radio show, and hear Flex spin his new single "Respect My Conglomerate." Busta also appears on DJ Green Lantern's in-game radio show with his original song produced exclusively for Grand Theft Auto IV, "Where's My Money."
In addition, Rockstar are offering players the chance to win a selection of prizes as part of the event. Anyone who downloads the free Lost and Damned Registration Gamer Picture and then either plays a GTA IV multiplayer session or downloads GTA IV: TLAD on Xbox LIVE will be automatically entered to win a Grand Prize entertainment system worth over $3,100 or a range of other prizes including Best Buy gift cards, Microsoft Points and free Xbox LIVE Subscriptions. More details here.
Source: Official GTA IV Website
Posted by
Tsuroki
at
21:17
. Category:
General
It's that time of the year again: the glorious three-day affair of the Electronic Entertainment Expo (E3) has returned.
Even though the event had its balls chopped off a few years ago, mainstream gaming sites are nonetheless buzzing with delight, their writers eagerly awaiting the inevitable announcements of upcoming releases. Bloggers are blogging, Twitters are twittering (Tweeting? Twitting? Twooting?). It's a grand ol' time for all of those involved.
(We're not there, however. So screw em'. We didn't want to go, anyway.)
It's not like it matters, though. Rockstar Games is nowhere to be found, and with their absence from the official Exhibitors List it's pretty safe to say that we won't be hearing of any additional details regarding Big Gay Tony's Sing-Along Adventure. At least not from E3, that is.
So while other gaming sites are busy talking about games that don't matter, we've gone ahead and killed off some time by setting up some "social networking" profiles of our own. (If CNN can do it, why can't we?)

First up is Twitter. Yup, we've caved in and gotten our hands on a Twitter account. You can follow us to get the latest updates from GTA4.net, quick blurbs from the GTANet team, and if you're the chatty type, you can harass us directly via @gtanet.
We're actively taking a look at other trendy networking sites that could use a bit more Grand Theft Auto lovin', as well. If you have any suggestions, leave a post on our forums.
Related Links:
@gtanet on Twitter - http://twitter.com/gtanet
Return to Archive.