News for July, 2009
Thursday, July 30, 2009
Posted by
adamcs
at
21:03
. Category:
General
The deadline for the music video contest that we told you about three weeks ago is tomorrow (July 31st) at 11:59 PM Eastern Time (that's 4:59 AM GMT on August 1st).
The contest rules can be found here, and you can watch all the current entries to the contest by going here. At the moment there are more than 12,000 entries!
UPDATE: Deadline has now passed.
Wednesday, July 29, 2009
Posted by
adamcs
at
11:00
. Category:
General
We have launched a new section on the site devoted to The Ballad of Gay Tony, the upcoming episodic expansion for Grand Theft Auto IV. There isn't much content there at the moment, but more will be added as soon as new details become available.
Saturday, July 25, 2009
Posted by
adamcs
at
12:56
. Category:
General
Dan Houser, the vice president of creative at Rockstar Games, this week said that a Grand Theft Auto movie is unlikely, and suggested that even if it were to happen, Rockstar would need to have creative control over the movie. This is what he told the Los Angeles Times:
"We donít believe that the Grand Theft Auto games, which are massive in scope and structurally complex, can be adequately compressed into a two-hour movie.

"It seems obvious to us that maintaining the long-term integrity of any entertainment property has been dependent on not making substandard spin-off products to people whose primary interest is making a quick buck. If we ever decide to do a film, it will be because we have resolved our creative doubts, and while retaining enough control to ensure that if the movie is terrible, at least we will know we ruined the property ourselves."

Dan Houser, Rockstar Games
Link: LA Times Article.
Wednesday, July 22, 2009
Posted by
adamcs
at
22:04
. Category:
General
Rockstar Games have announced that The Ballad of Gay Tony will be released on October 29, 2009. It can be bought on its own or as part of GTA: Episodes from Liberty City, which contains both The Lost and Damned and The Ballad of Gay Tony.
In addition, Rockstar have also released the first official desktop wallpaper featuring some character art. The girl featured in the art is Gracie Ancelotti - the mob daughter that Niko kidnapped during the mission "I'll Take Her".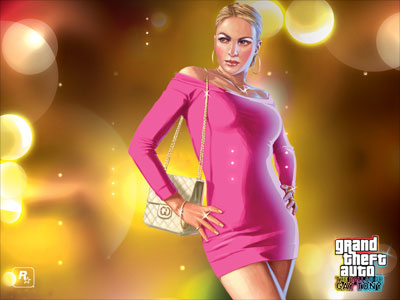 Links: GTA IV: The Ballad of Gay Tony; GTA: Episodes from Liberty City.
Thursday, July 16, 2009
Posted by
adamcs
at
15:45
. Category:
General

Last night over 500 game developers gathered in Brighton for the annual Develop Awards, which saw Rockstar Games take home two of the fifteen prizes that were available: Best In-House Team was won by Rockstar North, the creators of the GTA series, while Rockstar Leeds collected the award for Best Handheld Games Studio.
Source: GameSpot.com
Friday, July 10, 2009
Posted by
adamcs
at
21:28
. Category:
General
A new music video contest sponsored by Logitech is now open to Grand Theft Auto IV PC users at Rockstar Social Club.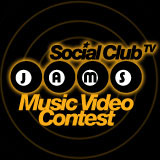 The contest asks you "to use any of the 98 songs available via the GTA IV PC Video Editor to craft your own original music video shot on location in Liberty City." Videos will be judged based on the following criteria: Creativity/Originality 25%; Editing Skill 25%, Theme Interpretation: 25% and User Rating 25%. Best Director wins a one-of-a-kind custom Rockstar branded set of Logitech PC peripherals including high end computer speakers, keyboard & much more.
To enter, you'll need to upload your video anytime between July 10, 2009 (today) and July 31, 2009 inclusive - and make sure to use the tag "music-video-contest". Go to the Social Club Jams Contest channel page at Social Club TV to watch video entries as they start flowing in, and visit this page to see the official rules and full list of prizes.
Monday, July 06, 2009
Posted by
adamcs
at
12:00
. Category:
General
Thursday, July 02, 2009
Posted by
adamcs
at
18:07
. Category:
General
Analyst Todd Mitchell, of Kaufman Bros. Equity Research, has told Gamesindustry.biz that he expects two new downloadable episodes to be released next year for GTA IV, with the next full GTA title expected in 2011:
"I would expect that there would be two more pieces of downloadable content for GTA IV, that's what has been indicated to me, although formats are unsure. It's been indicated to me to me that would be the case," said Mitchell.

"Our outlook includes expected strong sell-through of Bioshock 2, and the release of two 'AAA' titles, each from Rockstar (Red Dead Redemption and Agent) and 2K Games (Mafia II and TBD), reiterations of 2K Sports and 2K Play's annual line-ups, an expected GTA title for the PS2, expected strong sell-through of GTA: Chinatown Wars for the PSP, and new GTA DLC for the Xbox 360 and PS3. We now look for the release of GTA V in fiscal 2011..."
From our own point of view, Mitchell's claims seem unrealistic and do not cite any influencing factors aside from personal theories, so we would advise you to take his claims with a shovel of salt.
Return to Archive.