Who is Gay Tony, anyway? Gay Tony (Tony Prince) appeared during the missions "Diamonds are a Girl's Best Friend" and "Diamonds in the Rough" in previous GTA IV content. He operates Hercules and Maisonette 9, two nightclubs in lower Algonquin, Liberty City. By taking on the role of Luis Lopez - Gay Tony's bodyguard - we finally get an inside look at the luxurious nightlife of Liberty City.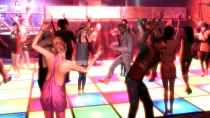 The gameplay focuses on high-end night life in Liberty City.
The Ballad of Gay Tony is the second installment of downloadable content (DLC) for Grand Theft Auto IV. It was released for Xbox 360 on October 29, 2009, and arrived on PlayStation 3 and PC on April 13, 2010 and April 16, 2010 in North America and Europe respectively.
Price & Availability: The Ballad of Gay Tony is available on Xbox LIVE for $19.99 USD (1600 points) or can be picked up as part of the Grand Theft Auto: Episodes from Liberty City bundle for $39.99 USD.
Discuss The Ballad of Gay Tony on our forums! Our forums are currently the largest online community dedicated to the Grand Theft Auto series. Click here to register your own unique username and become part of the ever-growing community!


We've assembled a thorough collection of mission guides and walkthroughs - soon to be complete with HD video - for all 25 missions in Grand Theft Auto: The Ballad of Gay Tony.

We've mapped the locations of everything you need to know - health, armour, weapons, parachutes, seagull locations and more. We've also developed a seagull hunting guide that enables you to mark off the ones you've completed and save your progress.

Make cars fall from the sky, change the weather on command... it's amazing what cellphones can do these days. The Ballad of Gay Tony contains 9 new cheat codes. Whip out your mobile and punch in one of these phone numbers to momentarily feel the power of a demigod. Roaming charges may apply.