Wednesday, July 18, 2007
Minor GTA IV Details Emerge
Posted by
adamcs
at
19:43
. Category:
General
Some new (relatively minor) details have emerged in the latest issue of the Official Xbox Magazine (US):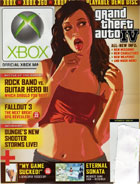 We find out that McReary's first name is Francis, and that he knows about a felony Niko committed. It also mentions that McReary has a moustache, which suggests he is the character seen in this official artwork.
The weapons on offer by Little Jacob included a 9mm, a shotgun, an SMG, and a micro SMG.
Before Niko submitted his cv/résumé to the Goldberg, Ligner & Shyster website, OXM got a quick glimpse of his work history and qualifications. It notes that Niko was on the "Balkan Peace Force," and that he is procificent in swimming, shooting and boxing (it also says later in the preview that you are able to swim to the Statue of Happiness, or get a boat there.)
Niko steals a black Comet before heading to the Humboldt River Viewpoint, to kill the man who stole McReary's memory stick.
GTA IV will include a pool mini-game, and many other mini-games. "You'll play at least some of these while hanging out with NPCs like Little Jacob."
Neither the 9/11 terrorist attacks nor Ground Zero will be referenced in any way in the game.
The receptionist from Goldberg, Ligner & Shyster, who calls Niko to inform him about his interview, is called Karen.
Related Links: