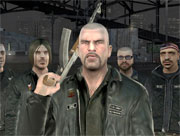 "The Lost" Motorcycle Club
This section is devoted to The Lost and Damned, the first episodic expansion of Grand Theft Auto IV. The Lost and Damned was released for Xbox 360 on February 17, 2009, and arrived on the PlayStation 3 and PC platforms during April, 2010. Here you can find everything you need to know about the expansion, including mission guides, maps, multiplayer details, soundtrack info and much more.
The Lost and Damned can be purchased on Xbox LIVE Marketplace for $19.99 USD or 1600 Microsoft Points. In order to play, you must have Xbox LIVE membership and an original copy of Grand Theft Auto IV for Xbox 360. It can also be purchased together with The Ballad of Gay Tony in a bundle called Grand Theft Auto: Episodes from Liberty City for $39.99 USD. This will be shipped as a standalone disc and does not require Grand Theft Auto IV.
The PlayStation 3 version is available via PlayStation Network and the PC version via Games for Windows LIVE.


This guide contains all the key details about each of the 23 main story missions in The Lost and Damned, complete with screenshots and high definition (HD) video walkthroughs.

We have assembled a comprehensive checklist of everything that is required in order to achieve 100% status. The checklist is available in a printable PDF format, and can also be completed online providing you have a free GTAForums account.

The Lost and Damned contains six new cheat codes in total, and these work in addition to the cheat codes that work in Grand Theft Auto IV (core). Here we have provided a complete list of all the working cheats, including accurate descriptions and screenshots.