Wednesday, January 21, 2009
New TLAD Info and Screenshot
Posted by
uNi
at
12:23
. Category:
General
R* just sent us a new screenshot from Grand Theft Auto: The Lost and Damned: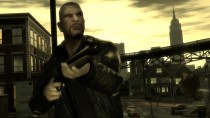 We also had access to the achievements for this episode, which are the following:
Get Good Wood – 50 – In the Bike Races, whack off 69 bikers with a bat.
Easy Rider – 100 – Finish The Story.
Full Chat – 70 – Your backup are riding at their best!
The Lost Boy – 25 – All hail the leader of The Lost!
One Percenter – 5 – Billy is back on his bike.
As we said previously keep an eye on the site and our forums since there's new stuff coming out on the 22nd, previews, new info and more screens and videos.
Thanks to R* for the Screen and info.