News for January, 2008
Thursday, January 31, 2008
Posted by
adamcs
at
22:09
. Category:
General

The latest issue of Official Xbox Magazine (March 2008, USA edition) contains a new, never-before-seen screenshot of Grand Theft Auto IV. The screenshot shows Niko, on his knees, being arrested by two cops. Thanks to Freedom360 from the forums for bringing this to our attention. There is likely an exclusivity agreement between the magazine and Rockstar Games, which means we won't be seeing this screenshot in its original (high resolution digital) format any time soon, unfortunately.
Related Link: Forum Topic - New Screenshot
Posted by
Andy
at
00:16
. Category:
General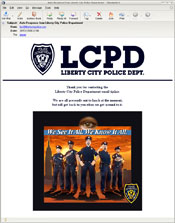 Auto-response email from

[email protected]
From Grand Theft Auto III to San Andreas, Rockstar has been known for creating small teaser sites that make reference to entities found in the GTA games themselves. By the looks of things thus far, Grand Theft Auto IV is no exception. We've known about the site for WKTT Radio -- an uber-conservative talk radio station found in GTA IV -- for some time now, and according to Adriaan over at Planet GTA, it looks like Rockstar has more goodies up their sleeve.
As part of Rockstar's real-world guerrilla marketing campaign for Grand Theft Auto IV, a reference to the Liberty City Police Department (LCPD) website was made through the request for "tips from witnesses".
From Adriaan's news post:
"As part of the viral campaign, they listed an e-mail address where you can send in "tips" to LibertyCityPolice.com, a website which undoubtedly will be accessible inside the game's internet function. The website isn't live yet on the real world internet. However, when you send an e-mail to the address

[email protected]

, you get an auto responder..."
Editor's Note from Andy: From a marketing perspective, this is absolutely brilliant. From a gamer perspective, it's even more brilliant. From an advertising student's perspective, it makes me ridiculously giddy to see Rockstar doing something like this. Woo!
Have an opinion you'd like to share about this latest development? As always, you can get in on the discussion over at GTAForums.
(UPDATE - JANUARY 31, 2008) New posters of Little Jacob (?) and Elizabeta have emerged. Thanks to our friends at GTAGames.nl for the update. See all of the GTA IV wanted posters below:
Posted by
adamcs
at
00:06
. Category:
General
Rockstar's creative vice president, Dan Houser, has provided a 90-minute preview of GTA IV to the Associated Press in New York. Although there aren't any major new details, there are one or two minor points which we felt were worth highlighting.
Houser talks briefly about his favourite mission in the game, which involves assassinating a character who's laid up in hospital. "How gamers achieve this goal is completely up to them, whether they decide to quietly sneak in through a window, boisterously bust through the front door guns blazin' or don scrubs and simply turn off the mark's life support." Rockstar are aiming to give players more control over their own destiny. "They even have a choice at the key moment in the whole story. I don't want to go into too much detail about it, but I think putting that into the hands of the player is very fun," said Houser.
The only other point worth noting is that there are "over 100" fictitious websites which can be accessed via Liberty City's Internet cafes. One of these, of course, is LibertyCityPolice.com (see above post) and another is GoldbergLignerAndShyster.com (see Missions page.)
Read the full interview here.
Tuesday, January 29, 2008
Posted by
adamcs
at
00:59
. Category:
General
IGN have posted a new feature titled 'Grand Theft Auto IV: A New Breed of Action'. The article looks at combat in GTA IV, and is based on the 90-minute preview session they were given by Rockstar two weeks ago. There doesn't appear to be any [obvious] new info in it, but it's probably worth a read nevertheless.
"What we've seen happen over the last couple of years is that a new standard for combat mechanics has emerged for third person videogames, regardless of genre. Whether it's an action adventure game like Uncharted: Drake's Fortune, a straight-up shooter like Gears of War or an open-world title like GTA IV, certain things are expected – smooth, accurate control for targeting, intuitive cover mechanics and non-restrictive agility. GTA IV checks off all those boxes, and while going hands-on will be the most important test, it's clear from our latest – extensive – eyes on, that Rockstar North is on the right track."
Sunday, January 27, 2008
Posted by
adamcs
at
23:47
. Category:
General
North American electronics retailer Best Buy has added three previously unreleased screenshots to their GTA IV product page.
If Rockstar's release of exclusive retailer-only Grand Theft Auto: San Andreas wallpapers in 2004 were of any indication, then there is a chance that other major retailers (Wal-Mart, EB Games, GAME, etc.) will also be posting GTA IV exclusives of their own in the days to come. (Keep an eye on their respective websites just in case we miss it!)
We're still in the process of trying to obtain full sized versions of these latest images, so for now the low-res versions will have to suffice. Cheers!
Related Link: Topic at GTAForums
Friday, January 25, 2008
Posted by
adamcs
at
17:02
. Category:
General
New images of the GTA IV special edition have appeared over at HardGame2.com. This is now believed to be the final appearance of the special edition - in other words this is what you will see when you purchase the game in April:
The changes are relatively minor. The main change of course is the cover of the soundtrack CD. You can compare these new images with the older ones found here. Discuss this news over at the forums.
Thursday, January 24, 2008
Posted by
Andy
at
23:45
. Category:
General

euphoria provides unique moments
Not so long ago, ragdoll physics kicked the level of gaming's interactive realism up a notch; gone were the days of obtuse death animations that defied the laws of physics. With GTA IV, Rockstar intends on pushing the level of realism even further. With the powerful Euphoria technology quietly doing its thing behind the scenes, the developers have put a considerable amount of effort into the smaller details that most games tend to overlook.
IGN has a new preview up focusing on some of the ways Euphoria helps bring the game to life, touching on elements such as crowd dynamics and environment awareness.
"Niko Bellic, the central antihero, is injected with surprising physicality thanks to his freeform movements. In the most basic examples, Niko's stance adjusts depending on the grade of the ground he's standing on, and he is seemingly spatially aware of his environment."
Along with a detailed account of the drunken stumbling scene mentioned in other previews, there's also a bit of info about how Euphoria is used in car crashes, as noted below.
"During car chases, this also comes into play pretty spectacularly. Niko, as well as enemies in the game, are affected by inertia – to the point where rear-ending a car causes people in the front to fly through the windshield and into the air, arms in a controlled flail. The impact is sickening and realistic; bodies don't just ragdoll in GTA IV, they roll end over end or side-on, before coming to a natural pause."
Delightful, innit?
Posted by
adamcs
at
17:17
. Category:
General
Four new screenshots have emerged from the website of Dutch magazine Power Unlimited:
Related Links: Power Unlimited, GTAForums Topic
(UPDATE - 25 January) We have now uploaded the fullsize (original) versions of these screens.
Posted by
adamcs
at
13:58
. Category:
General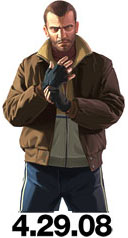 April 29, 2008 is a worldwide release
Rockstar Games have announced that GTA IV will be released in stores on April 29, 2008. This is a worldwide release which means it will be available in every country at the same time. Read the Take2 press statement below, and discussion on the forums (as always) is here.
New York, NY - January 24, 2008 - Rockstar Games, a publishing label of Take-Two Interactive Software, Inc. (NASDAQ: TTWO), is proud to announce the release date for Grand Theft Auto IV, the new title in the genre-defining Grand Theft Auto franchise. Developed by Rockstar North, Grand Theft Auto IV will be simultaneously available for Xbox 360® video game and entertainment system and PLAYSTATION®3 computer entertainment system and will be in stores worldwide on April 29, 2008.

"We are so excited to be releasing Grand Theft Auto IV," said Sam Houser, Founder and Executive Producer of Rockstar Games. "We've pushed ourselves very hard to make something incredible and hope the game sets a new benchmark for interactive entertainment."

For more information, log onto http://www.rockstargames.com/IV
Wednesday, January 23, 2008
Posted by
Andy
at
17:43
. Category:
General
It's been six long months since Take2 announced the delay of Grand Theft Auto IV. The response from the community was a mixture of outrage and apathy with aggravated gamers choosing to either lambaste all companies involved or simply shrug it off and move on.
Some dedicated fans stayed strong, however, crossing their fingers in hopes that more in-depth previews would appear due to the delay. Unfortunately, aside from a few teaser trailers and screenshots, the GTA IV scene fell into a disappointing lull. Grand Theft Auto fansites -- GTANet included -- struggled to fill the silence with whatever we could muster. But despite our best attempts, we knew all too well that nothing could be done to make up for the lack of much-needed previews and updates.
Until now.
Kikizo, GamesRadar, IGN, VideoGamer, and ComputerAndVideoGames have just unveiled their latest previews of Grand Theft Auto 4, the first major collection of online GTA IV previews since July of last year. The previews are based on a 90 minute preview session granted to them by Rockstar Games last week, and come with 10 never-before-seen screenshots of GTA4:
There is a lot of new info to digest, but we recommend Kikizo as a good starting point. In terms of depth, Kikizo once again stands out well above the rest. And according to a recent poll at our forums, it seems to be the preferred choice amongst GTA fans. Be sure to give them some much-deserved credit by checking out their new preview.
Summary of new details:
The game has now essentially been completed. Rockstar are just polishing the game and dealing with bugs, glitches and minor things.
The release date has yet to be decided. "Before the end of April" is unfortunately all we know. The gaming press will receive a hands-on preview before then - in approximately one month from now.
The Liberty City map was shown briefly during the demo. Kikizo describe it as containing a large island in the middle (Algonquin) with a similarly sized island to the left (Alderney) and two islands to the right - a small one (Bohan) up north with Broker and Dukes underneath. Rockstar also commented on the map found in Trailer 3 by our forum member Bluespot. "My God!" was their reaction. In other words, yes, it is indeed the map. Well done to Bluespot!
Liberty City will contain a subway system, which Niko is able to use. The system covers - at the very least - Broker and Algonquin, but we aren't sure about the other areas yet.
A speedboat journey around (approximately) half of Algonquin lasted 5 real-world minutes.
In terms of camera views, all the traditional views are still there, and there will now also be a dashboard view.
During the demo, they passed a restaurant called "Poop Deck," where they met with Francis McGreary. Other places mentioned are Oneida Avenue, 99 Long Road (Broker), a bar called Perestroika, South Parkway, Franklyn Street Westbank, and Albannay.
Three missions were previewed during the demonstration. The first one was "Search and Delete," followed by "Deconstruction for Beginners" and then "Truck Hustle". A new character called Playboy X is introduced by Elizabeta (a mutual friend) during the second mission. Playboy X lives in a mansion, and eventually provides missions for Niko. A second character called Dwayne Ford is introduced, who just got out of prison. He taught Playboy X "everything he knows," apparently. In the third mission, two characters called Ray and Bell are introduced. They are from the mafia, and are trying to help Niko find someone, but want some favours done in return.
The character Brucie is introduced to Niko by his cousin Roman. Brucie runs a garage just around the corner from Roman's taxi depot in Broker.
Characters often look different each time you see them instead of perpetually wearing the same clothes like in previous GTAs.
The red and blue search radius on the radar is centred around the point where the crime was committed, and your last known whereabouts.
Every police car in Liberty City has an on-board computer, on which you can access the police database files for anybody who's got a criminal record, or any other details that the police are aware of.
You can smash your own car window to enable you to shoot from it; you can free-aim outside of your window using the right analogue.
Liberty City has one airport, based on JFK, called Francis International Airport (yes, it's the same name given to the airport in GTA3). It is located in on the East of the city.
Progress is automatically saved after completing a mission. There are also safe houses dotted around the city, which you can save at any time.
In this demo, the cell network is called Badger, whereas in the last demo it was called Whiz.
Building and maintaining relationships with characters is important. During the preview, Jacob comes to meet you rather than vice versa. This is only possible once your friendship with Jacob has developed to a certain stage. Relationships can be damaged if you (for example) fail to turn up for meetings, or snub the character too many times. Maintaining good relationships with characters provides benefits.
Pool, eating, darts, drinking and bowling are just some of the activities you can do with your friends to maintain relationships. The cellphone is used to access these activities via a menu. If you go for a drink and drink too much, Niko will get drunk. When this happens, the radar reads "You are drunk. Your vision is blurred." and the camera begins to shake, which makes driving difficult.
There is a radio station called IF99.
The game clock is no longer one minute = one hour. It is now two minutes = one hour. So days now last longer.
Niko receives phone calls from people throughout the game. If someone really wants to get in touch with you about an important issue, they will keep on phoning.
The new targetting system was described. There are eight purple segments in the target circle that make up someone's health, which you get when you're locked on - during free aiming you don't get the indicator.
Expensive cars have better GPS systems than poorer ones. The one they enter during the preview session "talks us through the streets!"
The cellphone can be used to listen to radio stations, so now you can listen to music at any time.
The GTA 4 weather system does not feature seasons, and there is no snow.
Tuesday, January 22, 2008
Posted by
adamcs
at
18:50
. Category:
General
This is an update regarding the news we posted last Monday. ComputerAndVideoGames.com (one of the sites we mentioned that had seen the demo) have informed readers today that their new preview will go online tomorrow at 5:30PM GMT (12:30PM EST). We mentioned that Kikizo, CVG, GameSpot, IGN, 1UP and GamesRadar had all visited R* to preview the latest GTA IV demo, and these sites will now post previews tomorrow at the same time along with brand new screenshots. Discuss this at our forums.
Posted by
adamcs
at
00:39
. Category:
General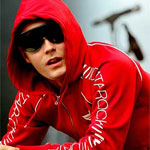 Datarock claim their music will feature in IV.
Incase you haven't already noticed, two new links have been added to the navigation at the top. We now have dedicated pages for Missions and Vehicles. Our Missions page summarises everything we know so far about the missions in Grand Theft Auto IV, and contains dialogue from the two missions ("Final Interview" and "Call and Collect") previewed by the gaming press last year. Our Vehicles page (created by the lovely STM) lists all of the vehicles that we know exist so far, and contains various details about each of them. Have a look and see what you think, and be sure to leave any feedback or suggestions at our forum.
In other news, a Norwegian band called Datarock have claimed that one of their songs will feature in GTA4's radio stations. The claim was made by Fredrik Saroea, one of the band's two members, during a recent interview. Source here, related forum topic here.
Monday, January 14, 2008
Posted by
adamcs
at
23:40
. Category:
General
Word has reached us that the next wave of online previews are due to arrive before the end of the month. Kikizo, GameSpot, IGN, GamesRadar, CVG, and 1UP will all pay a visit to Rockstar Games this week to preview the latest build of GTA IV. We will post more details as soon as they become available to us.
If you are unfamiliar with the format of these previews, check out some of the previous ones from July. These previews will also contain new screenshots.
(UPDATE) the date for these previews appears to be January 23rd, which is next Wednesday. More details to come soon.
Wednesday, January 02, 2008
Posted by
adamcs
at
19:40
. Category:
General
...kinda. A member called Bluespot at our forums has made a very intriguing discovery in the third GTA IV trailer. In the boat scene at 1:24, (part of) the Liberty City map appears to be shown on the boat's dashboard. It is very small and therefore difficult to examine, but it does seem to give a fair indication of the shape of the islands: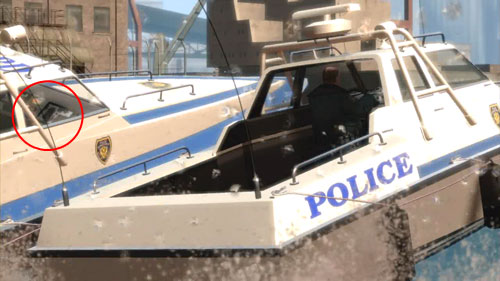 The map (we think) shows Algonquin in the middle, with Broker and Dukes to the right of it, Roosevelt Island separates them, and Bohan is up north. The section of the map containing Alderney appears to be partly cut out.
...or it might just be something totally different. Time will tell.
Link: GTAForums Topic
Return to Archive.