News for April, 2011
Friday, April 22, 2011
Posted by
adamcs
at
01:32
. Category:
General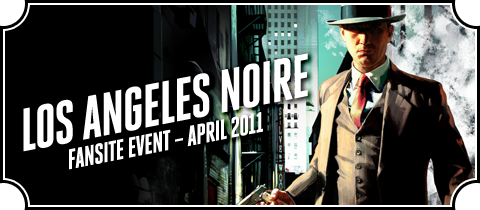 Last weekend, Rockstar Games kindly invited illspirit, Jevon, Andy and I to Los Angeles to experience L.A. Noire first-hand ahead of its release next month. We stayed at the historic Hollywood Roosevelt Hotel (which happens to feature in-game) where we met up with various other fan site operators and contest winners. At previous events hosted by Rockstar, we played together in a single room, but because of the nature of L.A. Noire's gameplay, we were each given our own console to play individually (and at times in groups) in our hotel rooms.
The event consisted of a mini-tour of Los Angeles, a Black Dahlia crime bus tour (which did a good job of describing the period in which L.A. Noire is set), watching fellow webmasters cockblock themselves at the party by the pool, and last but not least, game-time with L.A. Noire. Speaking of the party, there were some rather interesting.. characters to laugh at there, such as the guy from Montreal claiming to be a music video producer—wearing a white dress jacket and jeans—who we took to calling "Canada Vice". But that story is worth an entire chapter by itself!
You can read our general thoughts on the game below, but as we don't want to give away too much about the game (it's really something that should be experienced first-hand) we have refrained from mentioning specific details concerning case and gameplay elements...
Read More
Return to Archive.