News for August, 2007
Saturday, August 25, 2007
Posted by
adamcs
at
16:23
. Category:
General
Since news has been relatively slow lately, here are some new images from the Games Convention in Leipzig:
Related Links: mundoGTA.es, GTAForums Topic
Saturday, August 18, 2007
Posted by
adamcs
at
10:52
. Category:
General
Yesterday, Kotaku received a press release confirming that Rockstar Games will be present at next week's Games Convention in Leipzig.
Rockstar Games is happy to announce its attendance at the GC in Leipzig, Germany this August. Two upcoming titles will be on display at the conference, including the world-wide unveiling of Rockstar's newest installment of the Midnight Club franchise, Midnight Club Los Angeles. Be among the very first in the world to see the game as live demonstrations happen throughout the day on the show floor. Also appearing at the show is the Wii version of Rockstar's award-winning title, Rockstar Games Presents Table Tennis, which will be available to the public in hands-on form.
They don't mention GTA IV specifically, but look at this picture posted on the official Games Convention blog: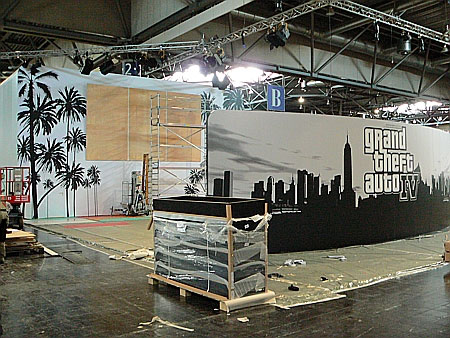 What this probably means is that Rockstar will be showing (in private) the latest build of GTA IV to gaming magazines for the next round of previews - but don't mark my word on that, the truth is it could be anything.
(UPDATE) A second picture from the blog...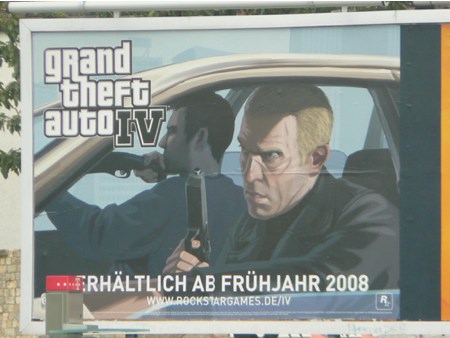 Related Link: GTAForums Topic
Sunday, August 05, 2007
Posted by
Andy
at
19:55
. Category:
General
It's been a rough couple of days with folks recovering from the announcement that GTA IV has been pushed back into the new year, so I decided to dig through some older posts for this weekend's Community Spotlight in hopes of finding something to cheer people up. But before I get into that, I'd like to straighten a few things out regarding our lack of coverage on the whole "new release date" issue.
Now, we realize that many other fansites are reporting an official release for March, and we also realize that we've been relatively mum on the subject so far. Our main reason for not mentioning anything about the launch is that there has yet to be any official statement from Rockstar regarding the specific release date of GTA IV.
Most websites are citing major North American retailers (such as Amazon, Gamestop, EB Games, Best Buy, and so on) as their sources. Unfortunately big retailers are notorious for having inaccuracies in their launch estimates, and with estimated release dates varying from retailer to retailer, we shouldn't be taking any dates at face value. At least not yet.
Rest assured that when an official date is announced, we'll let you know.
Now on to the Community Spotlight!
This week, I'd like to give a little shout out to GTAForums member "GTAIV Dude" (brilliant name, no?), who recreated the "Looking For That Special Someone" trailer by recording gameplay in Grand Theft Auto: San Andreas.
Be sure to stop by the thread in our forums to give the guy a pat on the back for his hard work.
Community Spotlight: Recreation of GTA IV Trailer 2, Gametrailers.com Link
Community Spotlight is a reoccurring (twice weekly) feature of GTA4.net, highlighting some of the hottest and most interesting topics from the GTAForums Community regarding the upcoming release of GTA IV. Want to nominate a thread for Community Spotlight? Check out the Community Spotlight thread over on GTAForums for details.
Friday, August 03, 2007
Posted by
Andy
at
18:19
. Category:
General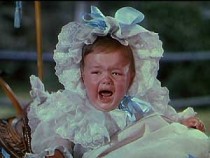 Yesterday we broke the news that the release of GTA IV has been pushed back until around the spring of '08. The reactions that followed were overwhelmingly broad in terms of tone and severity, but all managed to be (mostly) predictable. The GTAForums thread devoted to discussing the delay (at the time of writing this) has already accumulated in excess of 800 replies and nearly 20,000 views in less than 24 hours.
While it may seem silly to spotlight a thread that is already grabbing the attention of so many, it's hard to ignore the cries of aggravated gamers. Pounding their desks in frustration, they curse the same company that they had been praising and supporting up until the announcement of the launch delay. Speculation and theories behind the specifics of the delay are in abundance on our forums. While some remain optimistic about the postponed launch, others go as far as accusing Rockstar of stealing Christmas. Ouch.
It's a garbled mess of finger pointing and tantrum throwing, all directed towards everything and everyone in a futile attempt to pin the blame, holding an individual (or group of individuals) accountable for the sudden realization that GTA IV won't be in stores in time for the holiday season.
(Oh, yes, and let's not forget the ever-brooding fanboy warfare between 360 zealots and PS3 legionnaires, blaming inanimate pieces of plastic - and the consumers that purchase them - for the delay.)
Buckle up, kids. It's gonna be a bumpy ride for the next couple of days.
Community Spotlight: GTA IV Delayed
Community Spotlight is a reoccurring (twice weekly) feature of GTA4.net, highlighting some of the hottest and most interesting topics from the GTAForums Community regarding the upcoming release of GTA IV. Want to nominate a thread for Community Spotlight? Check out the Community Spotlight thread over on GTAForums for details.
** ALSO WORTHY OF NOTE! ** We've updated the weapons and setting sections of the site. Enjoy!
Posted by
adamcs
at
15:06
. Category:
General
Wedbush Morgan analyst Michael Pachter believes that Rockstar has delayed the release of Grand Theft Auto IV because it is struggling with development on the PlayStation 3. And since it's likely that Rockstar had an agreement with Sony not to favour one console over the other, it means they can't release one version and delay the other.
"We think it is likely that the Rockstar team had difficulty in building an exceptionally complicated game for the PS3, and failed to recognise how far away from completion the game truly was until recently.

"We think it is also likely that Take-Two had a contractual commitment to Sony that it would not favour competitor Microsoft by launching the Xbox 360 version of GTA IV prior to launching the PS3 version, and believe that any delay of the PS3 version necessitated a delay of the Xbox 360 version."
The game has been delayed until February, March or April of 2008, though hopefully we'll have a more specific date soon.
Source: GamesIndustry.biz
Thursday, August 02, 2007
Posted by
illspirit
at
20:31
. Category:
General
The release date for GTA IV has been pushed back until at least April 2008, possibly May February, March, or April [updated to reflect the fiscal calendar].
Take-Two is reducing its fiscal 2007 guidance primarily to reflect the movement of the launch of Grand Theft Auto IV for the PLAYSTATION®3 computer entertainment system and the Xbox 360™ video game and entertainment system from the fourth quarter of fiscal 2007 to fiscal 2008, due to additional development time required to complete the title. The title is now planned for release in the Company's second quarter of fiscal 2008.
Why, you ask?
Strauss Zelnick, Chairman of Take-Two, stated, "With Grand Theft Auto IV, Rockstar is setting a new standard for next generation video games. Certain elements of development proved to be more time-intensive than expected, especially given the commitment for a simultaneous release on two very different platforms. We all recognize that perfecting the game is vital and I can assure everyone it will be worth the wait. We owe it to the game's millions of fans, to our dedicated development team, and to our shareholders to make sure that Grand Theft Auto IV is a groundbreaking gaming experience that takes maximum advantage of next generation technology."

Sam Houser, Founder and Executive Producer of Rockstar Games, added, "The new consoles are allowing us to create the Grand Theft Auto game we always dreamed about. Every aspect of the game and its design has been completely transformed. The game is huge and is pushing the hardware platforms to their absolute limits. The top engineers from Sony and Microsoft are working closely with the team in Edinburgh right now, helping us to fully leverage the power of both platforms. As always, our goal is to surpass even the wildest expectations of the game's fans, and to create the ultimate high definition video game experience."
Ouch. Read the entire press release here, and discuss this development at our forums.
Return to Archive.