Saturday, December 13, 2008
GTA IV PC patch now available
Posted by
adamcs
at
03:08
. Category:
General
The patch promised by Rockstar Games last Saturday is now available. Start your game and connect to LIVE to trigger the download. The patch is 32.6MB, takes a few minutes to install, and contains a variety of fixes including the following: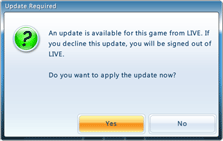 A fix to the crash after legal screen that some German customers were reporting.
Numerous improvements to the video editor: Smarter naming of videos, improved rendering quality, better fx during replays.
Fix to bowling while using certain sensitive mice.
Fix for ATI 1900 shadows.
Overall savings to memory.
Graphic improvements to particle systems and mirrors.
Multiplayer character settings are preserved.
Support for DirectInput controllers.
Rockstar have stated on our forum that they are "going to keep supporting GTA IV PC for a long time," and that we can "expect additional fixes/improvements in the future."
Related Link: GTAForums.com: Patch Released.
(UPDATE) Some users are experiencing an issue with the patch that causes the camera to spin or get stuck. Click here for details of a temporary solution.