Tuesday, April 22, 2008
Review Roundup + New Interview
Posted by
steve-m
at
00:05
. Category:
General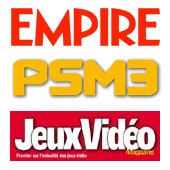 Further GTA IV reviews have been released recently, with a lot more to come later this week. As expected, the game is continuing to get exceptionally high scores. Apart from a few new screenshots here and there, there's nothing we haven't read before, so here's just a brief overview of the latest scores:
Empire Online: 5/5
PSM3 (France): 20/20
Jeux Vidéo Magazine (France)
[Update: The articles published in PSM3 and Jeux Vidéo Magazine were actually previews (or pre-reviews); the given scores don't necessarily reflect the magazines' final ratings of the retail version of GTA IV. The issues with the real reviews will be published in May.]
Keep your eyes open for additional reviews and let the community know if you find something in your favorite online or print publication.
In other news, GTA's art director Aaron Garbut was interviewed by Eurogamer, answering their questions about the GTA IV game design lifecycle. Starting with the early collecting of ideas and prototyping, the two-part interview touches on various interesting topics like character design and interaction:
"I think the level of detail the cut-scene guys have achieved is intense. They have the characters interacting with the world, which is hard enough, but they also have added a lot of feedback onto the world. [...] Things like pillows and mattresses bending or bouncing a little under the weight of characters sitting on it, phone cords dangling and following the phones movements, liquid moving around in glasses. It's pretty amazing."
We also learn some details about the engine's fancy new real-time lighting system:
"There are no hard limitations on the number of active dynamic lights around the player. The real-time shadows are working across every object and surface in the game with everything self-shadowing and casting onto everything else, there's ambient occlusion and emissive lighting on top of that. And then your standard next-gen shenanigans - light shafts, bloom, depth of field and motion blur, and of course it goes without saying everything's rendered with HDR."
Give it a read if you like; the interview will be continued with part two tomorrow. Or if you don't want to wait, there's a very similar 4-page interview over at IGN.