Proudly introducing an all-new cast of unsavoury miscreants.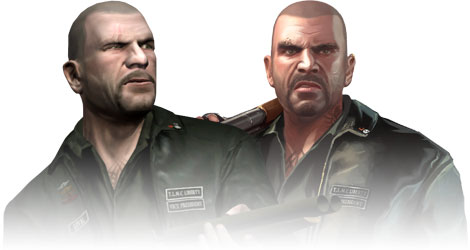 JOHNNY KLEBITZ
Voiced by
Scott Hill
.
Johnny Klebitz is the vice president of The Lost biker gang. Johnny has been creating business opportunities for The Lost in Liberty City, but his first loyalty must be to the patch he wears on his back and to Billy Grey, the club's President. However, when Billy returns from rehab hell-bent on bloodshed and debauchery, Johnny finds himself in the middle of a vicious turf war with rival gangs for control of a city torn apart by violence and corruption.
JIMMY FITZGERALD

Voiced by
Chris McKinney
.
Jim Fitzgerald is a senior member of The Lost motorcycle gang, and is one of the club's oldest members. He is extremely loyal to Johnny Klebitz, the acting leader while Billy Grey was incarcerated. Jim is at odds with Billy Grey on a number of issues concerning how the gang is run - for example he was against the war with the Angels of Death.

BILLY GREY
Voiced by
Lou Sumrall
.
Billy Grey is the president of the Alderney chapter of The Lost motorcycle gang. He was recently convicted of a drug related felony and sentenced to rehab, which meant that Johnny Klebitz became the acting leader. Some of The Lost's worst confrontations to date with the Angels of Death occured under Billy's command.

BRIAN JEREMY
Voiced by
Adrian Martinez
.
Brian Jeremy is a senior member of the Alderney chapter of The Lost and acts as the club secretary. He is fiercly loyal to the gang's incarcerated leader, Billy Grey. Brian is unhappy with The Lost's uneasy truce with the Angels of Death biker gang.

TERRY THORPE
Voiced by
Joshua Burrow
.
Terry Thorpe is the club's sergeant at arms, and one of Johnny's closest allies. Call Terry whenever you need weapons, and he'll meet you at a specific location and sell them to you at discounted prices.

CLAY SIMMONS
Voiced by
Keith Randolph Smith
.
Clay Simmons is the road captain of the Alderney chapter of The Lost motorcycle gang. Clay is one of Johnny's closest friends. Call Clay whenever you need a new bike and he'll bring it to you at no cost.

ASHLEY BUTLER
Voiced by
Traci Godfrey
.
Ashley Butler used to be close with Johnny, but now they are just friends. She has gotten into some bad stuff since she broke up with Johnny. Ashley has links with The Lost motorcycle gang and the Alderney-based Pegorino crime syndicate, and acts a conduit between the two organisations.

ANGUS MARTIN
Voiced by
Brian Tarantina
.
Angus is a veteran member of the Alderney chapter of The Lost. Angus was involved in an accident which forced him into a wheelchair, and since his accident he has developed an uneasy relationship with the club head, Billy Grey.

MALC
Voiced by
Walter T Mudu
.
Malc is a member of the Uptown Riders - a motorcycle gang based in Northwood, Algonquin. Malc is introduced to Johnny by Jim Fitzgerald during the mission "Hit the Pipe". The Uptown Riders have connections with Bohan-based drug dealer Elizabeta Torres.