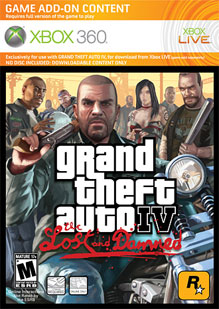 General Information
Title:
Grand Theft Auto IV: The Lost and Damned
Developer:
Rockstar North
Publisher:
Rockstar Games
(Parent Company:
Take2 Interactive
)
Platforms:
Xbox 360, PlayStation 3, PC
Multiplayer:
Up to 16 players on X360; 32 on PC.
Website:
www.rockstargames.com/thelos...
Release Date:
February 17, 2009 on X360; April 13, 2010 (USA) on PS3 and PC.
Rating:
MA 17+ (ESRB)
, 18 (BBFC)
About The Lost and Damned
When Grand Theft Auto IV was announced in 2006, it was also announced that Microsoft and Rockstar Games had formed a strategic alliance in order to provide exclusive episodic content for Xbox Live, "giving the community ever-expanding gameplay experiences." Rockstar North agreed to develop two episodes, and the first of these - The Lost and Damned - was officially released on February 17, 2009. The episode features new characters, new missions, new weapons, new vehicles, new music and new multiplayer modes. In addition, the following websites were added to the in-game internet:
www.trainyourselftolerant.com
www.congressmanthomasstubbs.com
www.angelsofdeathonline.com
www.banditmagazine.net
www.ecoelitevacations.com
www.genderroledoll.com
www.globeoil.net
www.highmenspacetours.com
www.killdebtdead.com
www.lostmc.com
www.managingmillennials.org
www.morningwoodspa.com
www.uptownriders.net
In The Lost and Damned you play as Johnny Klebitz, a veteran of the notorious biker gang The Lost. Johnny has been creating business opportunities for The Lost in Liberty City, but his first loyalty must be to the patch he wears on his back and to Billy Grey, the club's President. However, when Billy returns from rehab hell-bent on bloodshed and debauchery, Johnny finds himself in the middle of a vicious turf war with rival gangs for control of a city torn apart by violence and corruption. Can the brotherhood survive?
How do I get it?
The Lost and Damned can be downloaded from Xbox LIVE Marketplace for $19.99 or 1600 Microsoft Points. You can do this by logging onto Marketplace using your Xbox 360 console, or by going to the Xbox LIVE Marketplace website. You need an original copy of Grand Theft Auto IV in order to play The Lost and Damned, but you don't need to have completed the storyline.
The PlayStation 3 version be downloaded on PlayStation Network and the PC version via Games for Windows LIVE.
Featured Video